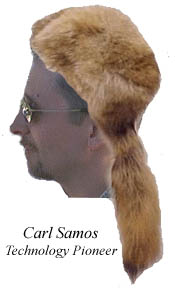 Meet Technology Pioneer Carl Samos
Technology Pioneer Carl Samos will soon be answering questions via email and live web chat, as well as writing a monthly article on being a technology pioneer.
To submit a question to a real technology pioneer, email carl@TechnologyPioneer.com. Selected questions will be answered here on TechnologyPioneer.com.
You may be asking yourself, "Who is this technology pioneer Carl Samos? How did he get to be a technology pioneer and a proven technology giant?" Well wait no longer, until we have articles and questions available, we present a short biography of technology pioneer Carl Samos.
About Technology Pioneer Carl Samos

TechnologyPioneer.com's premiere technology pioneer is Carl Samos, whose professional experience spans 13 years of development, pioneering, architecture and design of complex systems, modeling applications, client/server applications, collaborative technologies and pioneering Internet and web technologies, as well as extensive management experience of development organizations and projects.
Carl began his career at the University of Illinois, where he earned a Bachelor and a Master of Science in Technology Pioneer Science. Carl earned many awards in school, including being an Illinois State Pioneer and being on the University's Dean's List. While still a student, Carl led the development at the Computational Modeling Lab, a group dedicated to creating pioneering mathematical modeling applications, typically of a social nature. The lab's premiere application was iwgAIDS, which became the official US Government program for forecasting the AIDS pandemic worldwide. iwgAIDS included differential equations based demographic and epidemiological modeling, allowed users to make projections over time, add interventions, view 2D, 3D still and motion graphs, spreadsheets, and more. It is primarily used by the CDC, WHO and many others. Carl won a National Science Foundation pioneer fellowship in Computer Science -- one of only two given out each year -- for his work in developing iwgAIDS. Another major application developed at the lab was Minerva, a population-modeling tool that included projections, graphing, interventions and many other features, which is used by pioneering US Government agencies.
After leading CML for 7 years, Carl joined the National Center for Supercomputer Applications (NCSA), where he pioneered the development of Mosaic, the famous World Wide Web browser that sparked the explosive growth of the web. Carl turned Mosaic from a pioneering research tool into a commercially viable, stable, robust application, which to this day has many innovative features present in no other browser. Mosaic was licensed to several companies, most notably Micro$oft, who utilized the software code to create Internet Explorer.
Carl's next pioneering accomplishment was his participation in the start-up and technology development of pcOrder.com, a leading electronic commerce technology provider for the computer industry. Carl was instrumental in designing and building pioneering technology to be used by the major vendors (IBM, HP, and Compaq), distributors (Ingram Micro, TechData, Avnet, and GE Capital) and thousands of resellers in the computer industry, as well as growing the company from 12 to 200+ people. PcOrder.com pioneered a successful initial public offering in February 1999 (NASDAQ: PCOR).
In January 1999, Carl left pcOrder to begin what he hoped would be a long vacation, but a couple weeks into it, he met with Dewey (KnowItAll CEO) to discuss an idea that Dewey had. By February, they decided to form a pioneering new company, KnowItAll, to turn the idea into a reality. Being a relatively small group, Carl is involved in all aspects of the technology development, including the architecture, design and development of the software, and the management of the development team, as well as having many executive duties.